About Us
Red thru Violet Web Site Works was founded by Susan Sailow in the late 1990's, as Sound Software. Ms. Sailow was pursuing her career as a web site designer and developer, and working as a computer programmer.
The idea was to combine Ms. Sailow's love of music and art, with her technical background — and form an organization that would create and build web sites, and maintain those already constructed.
In 2006, the name Sound Software was changed to Red thru Violet, which shows the spectrum of colors, and reflects Ms. Sailow's web site work in a more descriptive way.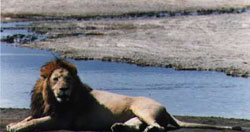 Ms. Sailow's background includes work as an Information Technology computer programmer, freelance graphic design, and photography of landscapes and animals (including humans). She has also produced radio programs on music, and written reviews of music recordings.
Lion Lying
Red thru Violet has performed maintenance, design, and production of web sites for a variety of clients, including Boots Road, CompuMentor, Hewlett-Packard, Stanford, US Forest Service, landscaping companies, a worker's union, musicians, a business that sells gifts, an environmental protection organization, animal rescue organizations, health professionals/organizations, and a group dedicated to mentoring women.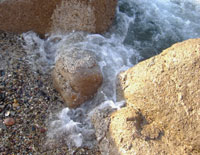 Red thru Violet is available to do web site work for individuals, groups, and businesses. Colorful, aesthetic sites with a solid foundation, will be produced, built from the ground up. And/or maintenance of your site will be done with enthusiasm and a sense of humor. Affordability is important, and the rates are reasonable.
Sea Swirling
To see some samples of the work of Red thru Violet, see the Clients page.
Ms. Sailow would enjoy using her experience and background to create a web site for you, and musicians receive a special discount on services.
She is also glad to help with the "housekeeping" tasks of a site, and, of course, she does do Windows....